♦ 2D wire bending machine is suitable for different kinds of 2d working piece, no need cut-to-length machine and forming die.
♦ 2D машина для вигину дроту is mainly used for bending and forming various metal wire into different shape in two-dimensional. Supermarket steel wire hanger bending machine, universal cnc steel wire bender
♦ The wire feeding and rotary bending system both adopt servo motor, significantly improves the precision of the product, and increases the speed and flexibility of machine effectively, furthermore greatly improves the production efficiency.
♦ According to the characteristics of wire processing, various kinds and shapes, we specially design the controlling system with a memory storage function, which can save more than 100sets of processing program for different products, can optionally select any one of them when needed.
Основні функції та функції:
1. 2D wire bending machine для двовимірного вигину і формування дроту, виготовляється відповідно до європейських стандартів машин.
2.Можливі механічні конструкції та мінімальні вимоги до встановлення завдяки розумній конструкції.
3.Friendly людина-машина інтерфейс, зручне програмування, простий в експлуатації.
4.Three groups of strong feeding-wire roller subassemblies powered with a servomotor ensure accurate wire feeding and excellent straightening.
5.Automatic wire straightening, feeding, forming and recording the output amount.The wire product size and parameters and presetting quantity,can also be changed and modified during producing.
6.Available for forming and bending different diameter of steel wire,iron wire, stainless steel wire, copper and aluminum wire,also other metals,which cross-section is round, flat, square, hexagonal, etc.Widely used in the industry of wire products, fan nets, handicrafts, lampshades,and so on.
7, the equipment selected sub-drive control high-precision servo motor wire, mechanical transmission selection of precision gear connection, always keep the same line feed accuracy and wire feed speed;
8, shear cylinder hydraulic station equipped with forced air-cooled radiator, double the extension of the hydraulic system components life;
9, the control system using PLC and text display connection, both convenient operation, but also to ensure the stability of the control system, and the design of the production of preset function control machine running.
10.It feeds wire by servo motor, to make sure high precision.
2D wire bending machine is equipped with cooling device, to keep machine working for long time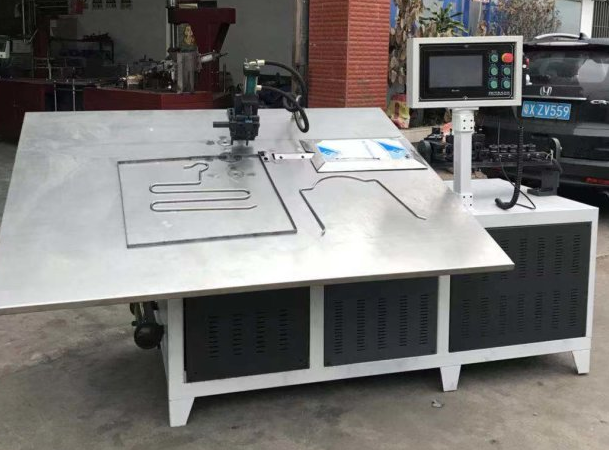 1.Auto parts: car seat frame, door lock lever, snake spring, including single snake and double snake, automobile cat head retainer, car seat belt retainer, car seat support wire fittings, motorcycle spare parts, bicycle parts, baskets and so on
2.Daily hardware products: kitchen display racks, commodity shelf, egg beater, cabinet pull baskets, refrigerator grille, toilet racks with steel wire products, supermarket shopping baskets, carts, display pendants and so on.
3.Wire craft products, lighting line molding products, fishing accessories products, including wine racks, KTV fruit bowl, Christmas wire forming gifts, are used in those various shapes of wire or wire wound into the plane or three-dimensional pieces.
4. All kinds of cage processing: pet cages, bird cages, dog cages, breeding cages, rat cages, etc.
5.Hangers, shoes hanging, curtain hooks, shelf hooks, display hooks and other hooks.
Advantages & Main Features
1)3-4 pairs feeding roller,feeding motor fixed on the bottom base, so as to decrease the feeding box weight,that wire rotation is more fast and stable.
2)Twist head is designed in copper tube transport, more stable and stronger than bearing transfer
3) Adopting advanced world famous brand components in CNC parts ,electric parts and operation parts.
4) Running in a high automatization and intellectualization,no pollution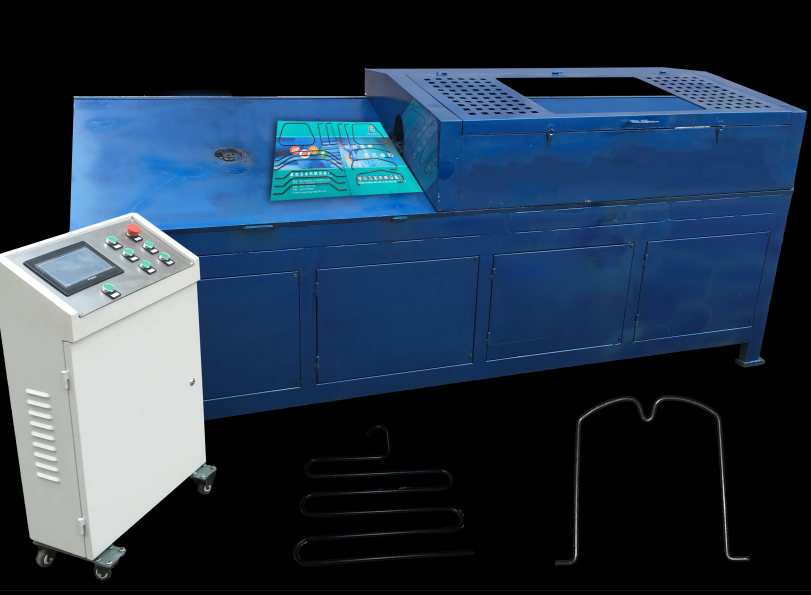 1.Adopt dedicated computer system by Taiwan wire forming machine and imported high-density servo motor.
2.Easy to operate, accurate positioning and can store hundreds of different processing procedure, shorten the time for the next time debugging
3.According to the situation on the screen, can modify Angle at any time.
4.When there is no line, broken line or tangled lines, automatic stop designed. And the line automatic acceleration make production easier and effective.
5.Applicable to products: car seat suspension spring, visor skeleton, car lock rod, wire arts and crafts, clean tableware bracket, storage cage, shopping carts, etc
Distribution line assembly, straightening mechanism, bending line
assembly, hydraulic system, electrical control part.
1, hydraulic system (control the outer mold lift and cutter);
2, wire assembly (to complete the delivery of materials);
3, straightening institutions (straight wire);
4, bending line assembly (product molding).
The a brief introdction for машина для вигину дроту
The 2D wire bending machine is a flat two-dimensional wire bending machine. A forming machine that realizes wire shapes of various specifications. The movement of the head is controlled by servo motor, which greatly increases the moving speed of the machine head while ensuring the processing precision, and effectively improves the production efficiency. The distance between the incoming station and the bending head is adjustable, so that it can handle the important winding process in the case of a small diameter of the wire, and can also perform the bending work requiring a large space. The device has a memory storage function, which can save the processing program. When processing again, it only needs to directly access the program to complete the wire forming process.
1.auto parts:car seat skeleton,door lock lever,serpentine spring,including single snake and double snake,car cat head circlip,car seat belt circlip,car seat steel wire parts,motorcycle spare parts,bicycle Spare parts and baskets are more suitable for production with wire forming machines;
2.daily hardware products:kitchen display racks,racks,egg beaters,cabinet pull baskets,refrigerator grids,racks used in the bathroom wire products,supermarket shopping baskets,carts,display pendants and so on.
3.iron wire craft products,lighting line molding products,fishing gear accessories products,including wine racks,fruit pots in KTV,Christmas wire-formed gifts,all use different shapes of steel wire or iron wire winding Plane or three-dimensional pieces.
4.the processing of various cages:pet cages,bird cages,dog cages,breeding cages,trap cages, etc.
5.hangers,shoe hanging,curtain hooks,shelf hooks,display hooks and other hooks.